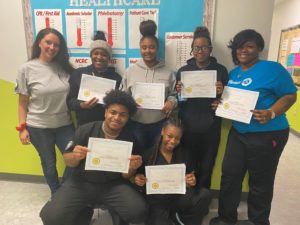 YouthBuild Dayton Graduates Earn National Allied Health Certifications
[Dayton, Ohio], February 7, 2020 — 12 students of YouthBuild Dayton in Dayton, Ohio passed national certification exams, earning professional credentials for allied health occupations, including Certified Phlebotomists.
The YouthBuild Dayton program prepares opportunity youth for their future in the workforce. In the healthcare pathway, participants have the opportunity to learn, study and test for industry-based certifications in a number of allied health professions, starting with phlebotomy.
"These students worked hard through the phlebotomy program, all while volunteering at local healthcare facilities and finishing their secondary school education. We designed our program to prepare these young adults to be workforce ready and, although graduation is still a few months away, several of these students already have jobs waiting for them after they walk across the stage at commencement," says Dr. Jerry Farley, Director at YouthBuild Dayton. "We are all very proud of these young men and women and eager to see the what the next chapter in their life holds for them."
The YouthBuild Dayton healthcare program teaches students foundational knowledge while providing participants with the opportunity to apply skills through hands-on experience. This helps these young men and women solidify their understanding of allied health careers and gives them the clinical experience necessary to enter the workforce, if desired.
"Earning national certification is a great stepping stone and differentiator for students pursuing a college degree. For graduates who decide to enter the workforce after high school, certification gives them a competitive advantage over other job candidates," says Laura Flynn, director of the Career and Technical Education Division at National Healthcareer Association (NHA).
YouthBuild Dayton is proud to announce our latest participants who earned national certification in an allied health profession:
Saundra Barker, Certified Phlebotomy Technician
Arianna Bartholomew, Certified Phlebotomy Technician
Keyaira Edwards, Certified Phlebotomy Technician
Haley Cody, Certified Phlebotomy Technician
Justice Knox, Certified Phlebotomy Technician
Madison Loveday, Certified Phlebotomy Technician
Tymir Lynch, Certified Phlebotomy Technician
Desiree McDermott, Certified Phlebotomy Technician
Tonio McNeal, Certified Phlebotomy Technician
Sabre Robinson, Certified Phlebotomy Technician
Alexys Smith, Certified Phlebotomy Technician
Shamica Woods, Certified Phlebotomy Technician
These participants successfully completed all requirements and passed a nationally-accredited certification exam from National Healthcareer Association. To learn more about YouthBuild Dayton Healthcare program, contact Sarah Grimm, Program Manager at sgrimm@youthbuilddayton.org.
About YouthBuild Dayton
YouthBuild Dayton draws most of its participants from the northwest quadrant of Dayton. Participants who enroll in the YouthBuild program typically have struggled in the traditional educational environment and dropped out. They also face many barriers including unstable housing, involvement in the court system, transportation, food insecurity, access to daycare for their children and low reading and math levels. Annually, YouthBuild Dayton works with about 40 young men and women, 17 to 24 years old, who are motivated to change. The program helps them complete their secondary school education (high school diploma or high school equivalency certificate) while they earn industry-recognized credentials in construction or healthcare, while also gaining valuable work experience by volunteering in the community.
About National Healthcareer Association®
Since 1989, NHA has been partnering with allied health education programs, organizations, and employers across the nation to award more than 900,000 allied health certifications. The organization offers eight nationally accredited exams, certification preparation and study materials, two specialty certificate programs, industry-leading outcomes-based data analytics, as well as ongoing professional development and continuing education. For more information, visit https://info.nhanow.com/ctesuccess. NHA is a division of Assessment Technologies Institute, LLC, a leader in providing technology based educational, assessment, testing and certification solutions for healthcare and other vocational fields.