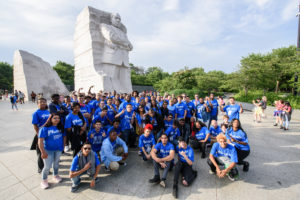 Students from YouthBuild Dayton Represent Local Opportunity Youth at National Leadership Conference
Mariah Akbar and Elizabeth Wissman joined movement of motivated young people in Washington D.C. at Annual YouthBuild USA AmeriCorps Conference of Young Leaders   
Local YouthBuild Dayton students were selected to join more than 80 other young leaders in Washington, D.C., to further develop their leadership skills and network with current and former students from YouthBuild programs across the country. Mariah Akbar and Elizabeth Wissman participated in the 31st Annual YouthBuild USA AmeriCorps Conference of Young Leaders during the week of June 3, 2019.
The YouthBuild USA AmeriCorps Conference of Young Leaders brings together young people from across the country to fully experience the breadth and impact of YouthBuild's global movement rooted in leadership, service, education, and workforce training. The young people shared their experiences with each other and participated in workshops on understanding substance abuse and its impact on long-term success, building healthy relationships, developing financial capability skills, identifying leadership styles, and personal branding. Delegates like Akbar and Wissman are chosen to attend by their fellow students and local YouthBuild program staff.
"YouthBuild students are full of promise and – when given the opportunity coupled with support from caring adults – they can go on to do great things," said John Valverde, CEO of YouthBuild USA, who addressed the students at the conference. "Our Conference of Young Leaders shows young people that they are part of something larger than themselves. It gives them the confidence that they have the skillsets, mindsets and partners to return home and make a significant impact on their communities."
A new addition to the Conference this year was the Service Impact Fair, where students highlighted their service to community through pictures, videos and stories during a science-fair-style event. The presentations told the story of the service they provided, the impact they've had on their community, and what they learned during their time at YouthBuild.  
"We were delighted that each of the young women selected represented both of our programs – Mariah represented our healthcare track and Elizabeth our construction track. As members of the Peer Leadership Counsel, we were happy to provide these young women with the opportunity to build on their leadership skills and represent the best of Dayton." said Dr. Jerry Farley, Director of YouthBuild Dayton.
"I really enjoyed getting to travel to Washington D.C. and fly on an airplane and I also learned the importance of networking and meeting people all over the country," said Akbar.
"I never realized there are so many people around the country who are focused on making it a better place! It's amazing to see so many people coming together for a good cause." Said Wissman
YouthBuild Dayton is one of 252 local programs across the U.S. that help unemployed and out-of-school young people ages 18 to 24 attain their High School Equivalency (HSE) or high school diploma. During that time, they also learn career skills by building affordable housing and other community assets in their neighborhoods, while engaging in community service and leadership training. Graduates leave prepared for success in post-secondary education, careers, and registered apprenticeships — and as a part of a strong and supportive global community.
About YouthBuild USA
YouthBuild USA is the nonprofit support center for 300 local YouthBuild programs operating in 21 countries, with 252 programs in 46 U.S. states and 48 programs in 20 other countries. In YouthBuild programs, unemployed, low-income, and out-of-school young people ages 16 to 24 work toward their high school diploma or equivalency, while learning job skills by building affordable housing and other community assets in their neighborhoods and engaging in community service and leadership training. Proven effective by the most rigorous program evaluation research, YouthBuild's comprehensive model gives graduates the confidence and tools they need to become strong, responsible and ethical young leaders. For more information, visit www.youthbuild.org.
About YouthBuild Dayton
YouthBuild Dayton, a program of County Corp, is sponsored by the U.S. Department of Labor, provides training in the field of construction or healthcare to young men and women so that they are able earn industry credentials – ultimately resulting in employment. During his/her tenure in the program, each participant will also receive academic training toward attainment of a high school diploma or a High School Equivalency (HSE) and instruction in cognitive behavioral change classes that include social skills development, and development of problem solving skills.
In addition to the YouthBuild program, each member is enrolled in AmeriCorps. As an AmeriCorps volunteer, participants will provide 450 hours of volunteer service – by constructing single-family homes or volunteering in the local hospitals or nursing homes in the Dayton area.